About the Artist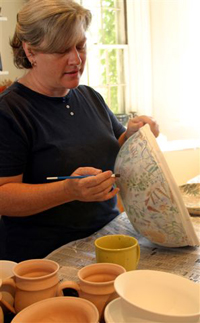 I absolutely love working with clay. It's so much fun to start working with a raw material and through manipulation, outside forces and a little help from the cosmos, you end up with a beautiful and original piece of art.
I have always been intrigued with the symmetry of so many natural elements in our world, and the random aspects of others. It is that symmetry and randomness, as well as that deep level of intricacy in nature that draws my inspiration for my art. Why try to mimic nature when I can use nature, literally, in my work?
My traditional educational background is in Engineering. I have a Bachelor of Science degree in Electrical Engineering from Worcester Polytechnic Institute and a Master of Science degree in Engineering Management from University of Dayton. I spent 11 years in the United States Air Force holding jobs that ran the gamut from an Engineer on an Acquisition team for major procurements to a job at the Pentagon where I was responsible for programming and defending funding for the National Nuclear Intelligence Program and the Air Force Chemical and Biological Warfare Intelligence Program. Not your typical artist background I guess, but it's worked for me.
After a bad case of Lyme Disease in 2000, I had some difficulties with getting my hands to work properly. I also had a wonderful doctor that wanted to help me. He said to me, "I know you. If I tell you to go to physical therapy 3 times a week, I know you won't go. I must find something more creative for you." He suggested a sculpting class, made sure I signed up and then checked on my progress. The rest is, well, my history.
My art education includes specific ceramics instruction by Monica Litvany in Pompton Lakes, NJ (2000-2002) and many Adult classes at the Worcester Center for Crafts (2003 to 2008). I also did a week long workshop in Pensacola, Florida with Peter King in Architectural Ceramics which was probably one of the most fascinating weeks I've ever experienced.
About 80-90 percent of my work is custom made. I do have work for sale at the Nashoba Valley Winery in Bolton. Additional work is made specifically for the Healing Garden in Harvard, Fruitlands Museum in Harvard and Tower Hill Botanical Gardens in West Boylston. Sales of pottery at these locations benefit these wonderful organizations.
When I'm not in my home studio playing with clay and listening to music, I can be found volunteering as a Musical Producer at local schools, playing percussion in the Rivers Edge Community Band, taking a role on stage in the River's Edge Players, or just enjoying my favorite roles of wife, mom and friend.
Gayle Joseph
Artist and owner of Still River Pottery